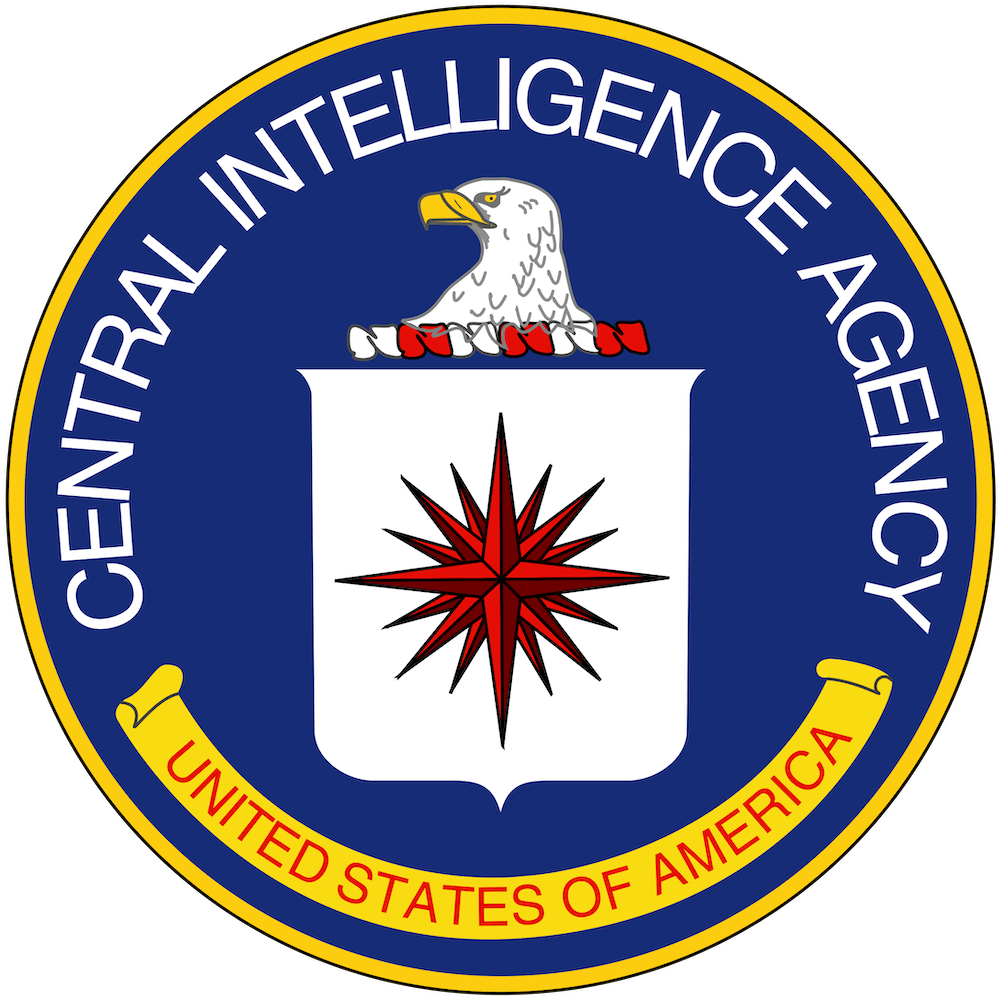 The Dark Truth About the CIA
Many people think that the CIA is a patriotic organization that protects Americans from danger, and informs the President about what's happening in the world so he can make good decisions. But that couldn't be further from the truth. The truth is that the CIA is a vicious paramilitary mafia, that rigs elections, overthrows governments, kills people, and manipulates our presidents into doing their bidding. They are the world's foremost experts in lying, cheating, and stealing from other countries. They sow chaos, degeneracy, corruption, and violence everywhere they go.
How It Started
The CIA was created by British Intelligence during WW2, when MI6 came over and taught Americans the ruthless tactics they had been developing for centuries.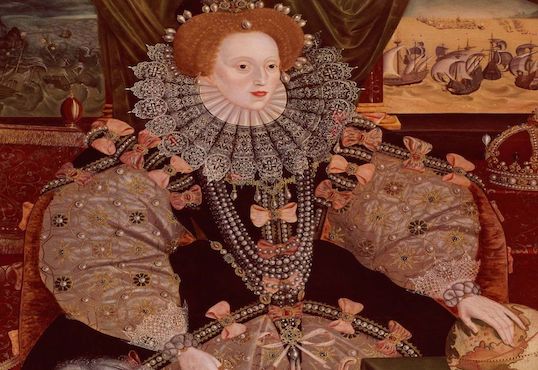 Queen Elizabeth Gets Jealous
In the 1500s, Spain was getting rich colonizing America, and the original Queen Elizabeth was feeling left behind. So she authorized a practice called "privateering", which is essentially a legal version of piracy - where she would use pirate mercenaries to attack and plunder Spanish treasure ships carrying gold back from their American colonies.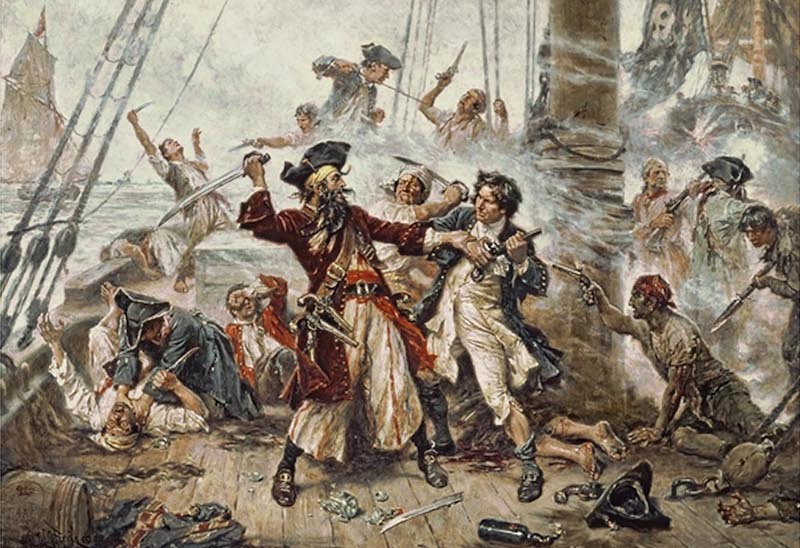 Marine Intelligence
Piracy was a way for Queen Elizabeth to get a piece of the action without provoking a full-scale war with Spain, who was way bigger and badder than them at the time. She called her private pirate army "Marine Intelligence 6" (aka MI6). And they stole lots of gold from Spain. MI6 now stands for "Military Intelligence 6" but that didn't happen until way later.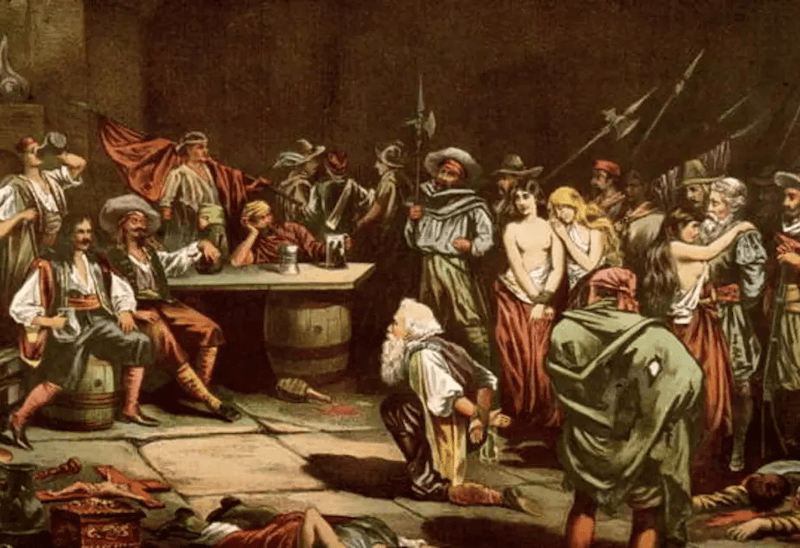 Caribbean Pirate Colonies
During this time, British operatives pioneered many of the clandestine tactics and networks they ultimately used to become the preeminent superpower in the 1800s – tactics using such as opium, aka heroin, and human trafficking to fund pirate colonies throughout the Caribbean to keep the money flowing, and the men fed, when there weren't Spanish ships to attack.
East India Company
Queen Elizabeth's pirate racket gets reorganized into a ruthless corporation: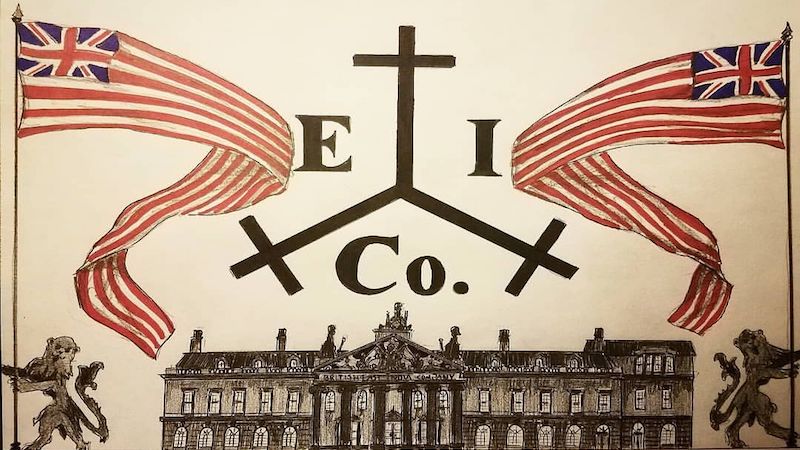 After they defeated the Spanish Armada, the Queen reorganized her savage horde of pirates into the East India Company, which royals then used as the primary vehicle of their ruthless imperialism for the next several hundred years.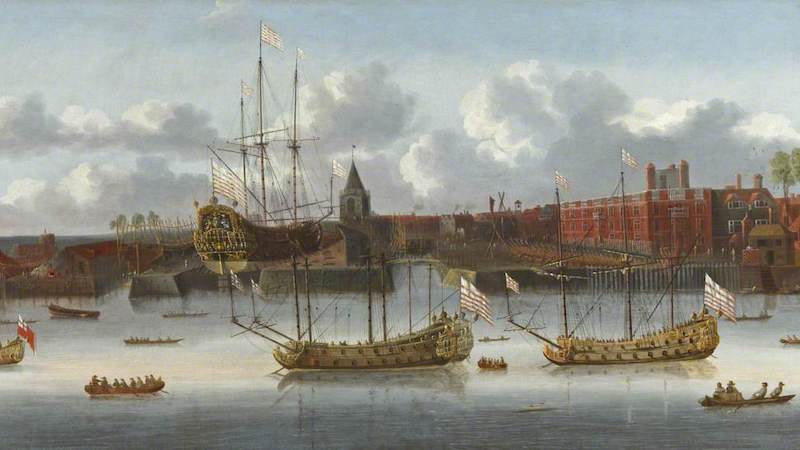 At its peak, the British East India Company had a private army of about 260,000 men, roughly twice the size of the British Army, and they dominated opium and slave trafficking worldwide. And conquered many colonies.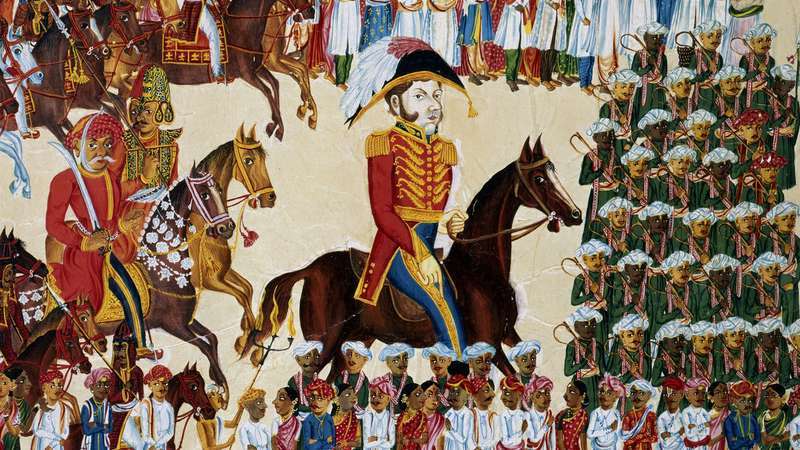 They served as the tip of the British military spear - directly ruling over India for over 100 years and eventually going to war with China for trying to outlaw their heroin dealing. Also with the United States after the Boston Tea Party.
Reorganized Around Oligarchs
Jewish Banking Oligarchs
Christians were banned from becoming bankers in medieval Europe - so all banking was run by Jews. Royals used Jews as their "court factors" (aka chief bankers), because they were a small minority who faced extreme prejudice from the rest of the population, so they were reliant on royals for protection. Jews were stereotyped as not being loyal to any country, so MI6 reorganized itself around Jewish Oligarchs to obfuscate the British origin of it's activities.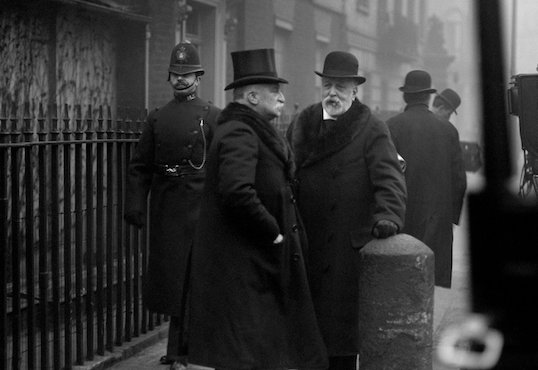 House Rothschild
Rothschild was the Court Factor (chief banker) to a German royal in the Holy Roman Empire. His sons became the top bankers for every major government in Europe - eventually bailing out The Vatican, and the Central Bank of England - helping it monopolize its control over currency. They built & maintained a vast network of spies, saboteurs, smugglers, bankers, and businessmen across all of Europe, and became the preeminent super-oligarchs that MI6 was organized around in the early 1800's. The Rothschilds were also promoted to royalty and given "titles of nobility" (i.e. "Baron") for their service to the Empire.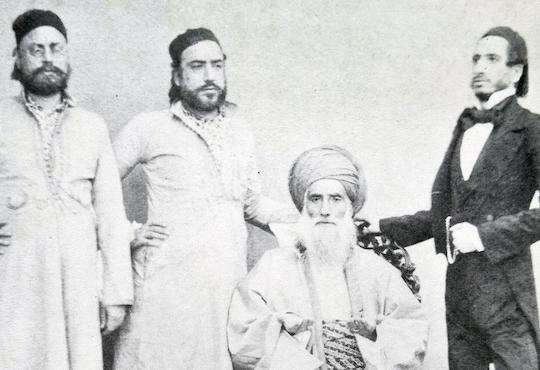 House Sasoon
Sassoons (Rothschilds of the Far East) were the wealthy Court Factors (chief bankers) to the Ottoman Pasha of Baghdad. After the Pasha was overthrown, they moved to India, where the British Crown granted them monopoly rights on all Indian cotton, silk, and opium production. When China tried to outlaw their opium dealing (because it was wreaking havoc on the Chinese economy and population), the Sassoons asked the British Royals to retaliate - and they eagerly agreed. Kicking off the Opium Wars - where the British Empire destroyed China, seized Hong Kong, and forced them to legalize opium again.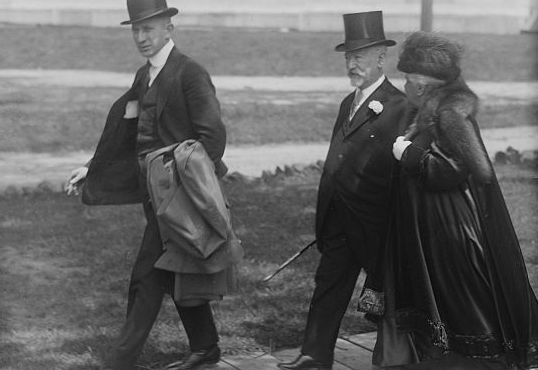 House Schiff
Born in Frankfurt (roommate of the Rothschilds), Schiff was a fabulously wealthy banker who helped establish, Citibank, Wells Fargo, Western Union, Union Pacific, and the Federal Reserve. He financed the American railroads, and the Japanese military efforts against Tsarist Russia (a target of the British Empire). Working with the British MI6, Schiff secretly helped fund the Emma Goldman archaist networks (who assassinated leaders around the world) and the Bolshevik Revolution in Russia. Schiff arranged the Rothschild (Bank of England) money that put US oligarchs Rockefeller & Carnegie on the map.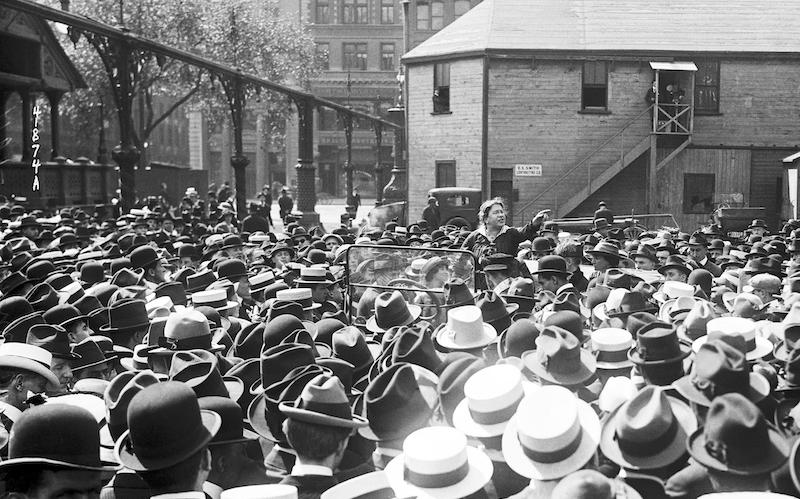 Masters of Indirect Assassinations
Assassinations are much easier to keep secret when they are outsourced to criminal proxies. Emma Goldman was a criminal proxy (British intelligence asset) who led a worldwide movement of anarchists. Based out of London and funded by Banking Oligarchs in New York, Emma Goldman's movement assassinated (6) monarchs, (2) presidents and several prime ministers. It was great cover for MI6, as many of the "anarchists" in her group had no idea that they were acting as pawns of the British Empire.
Using Criminals and Terrorists
MI6 became the world's foremost experts in using criminals and terrorists to assassinate world leaders: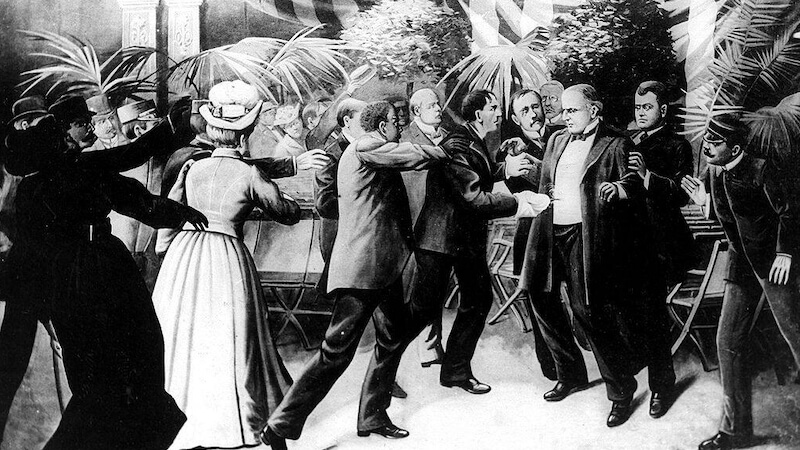 President McKinley
Assassinated by (London-based) Emma Goldman anarchist network, because he impeded Britain's imperial agenda for South America, and passed the Gold Standard Act, an obstacle to the British Empire's plan to recapture Americas money supply. Clearing the way for VP Roosevelt, who wanted to create a new British-American Empire to rule the world, to take over as President.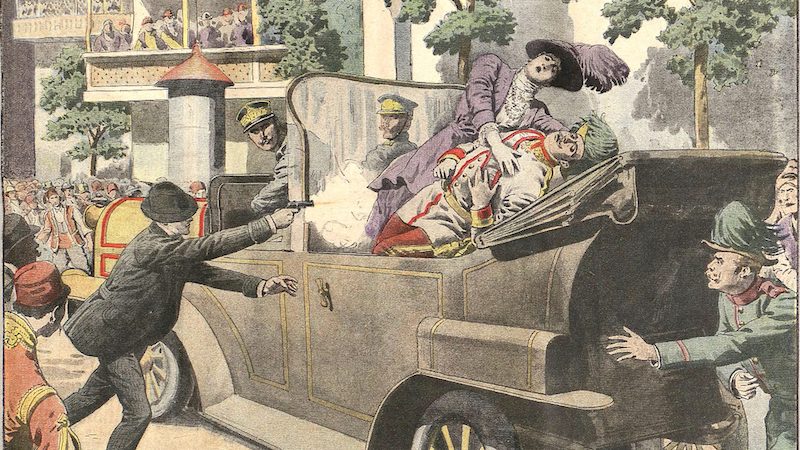 Archduke Ferdinand
The assassination that provoked WW1 (carried out by an anarchist) was ordered by a secret society in London - founded by British Oligarch Cecil Rhodes - whose mission was to expand British power and dominance around the world, by manipulating all of their European competitors (i.e. Germany, France, Russia, etc) into destroying themselves with a catastrophic war.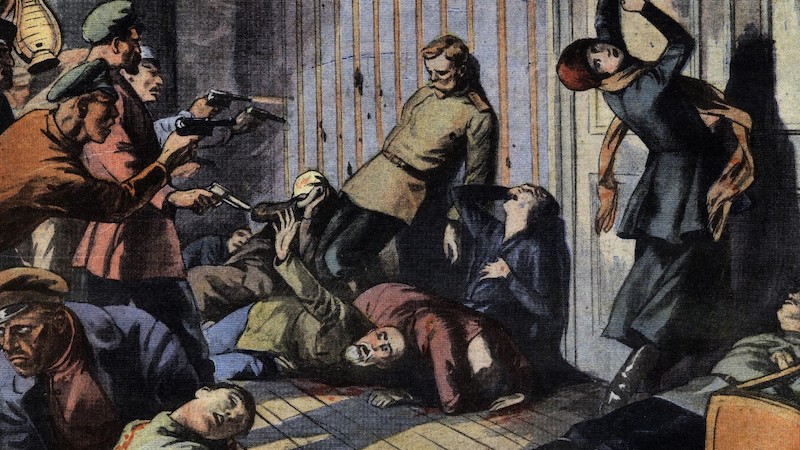 King of Russia
The Bolshevik terrorists who ruthlessly murdered the King of Russia (and his entire family) were funded and dispatched by banking oligarchs Jacob Schiff and Paul Warburg. The oligarchs pretended it was because the Russian King was aggressively antisemitic. But it's actually because they were secretly working for MI6 and the British Empire - who wanted to destroy Russia.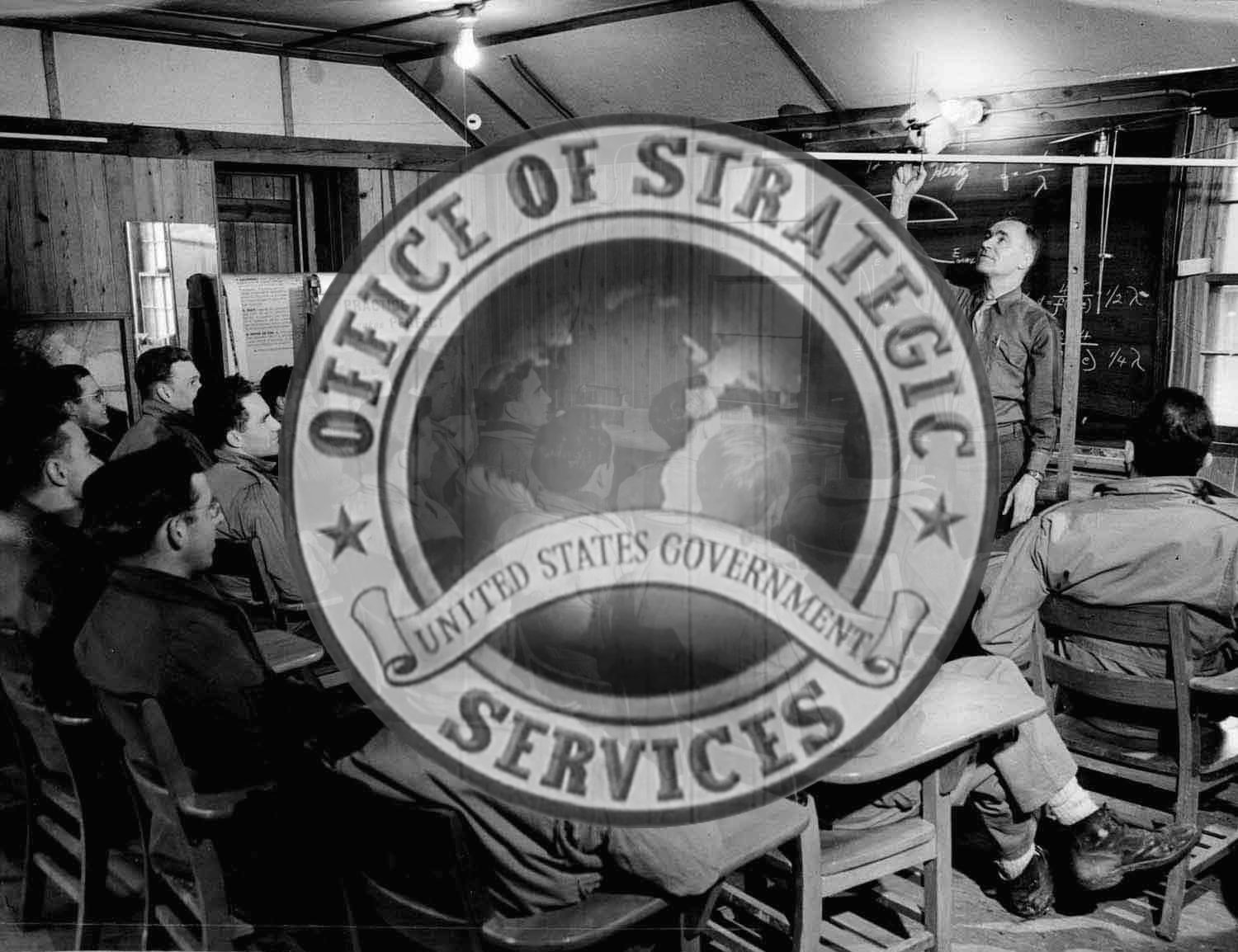 OSS = CIA
During WW2, British intelligence (MI6) came over and built the OSS from the ground up - teaching the Americans the ruthless tactics they had been using for centuries. In 1947, OSS was reorganized into the CIA.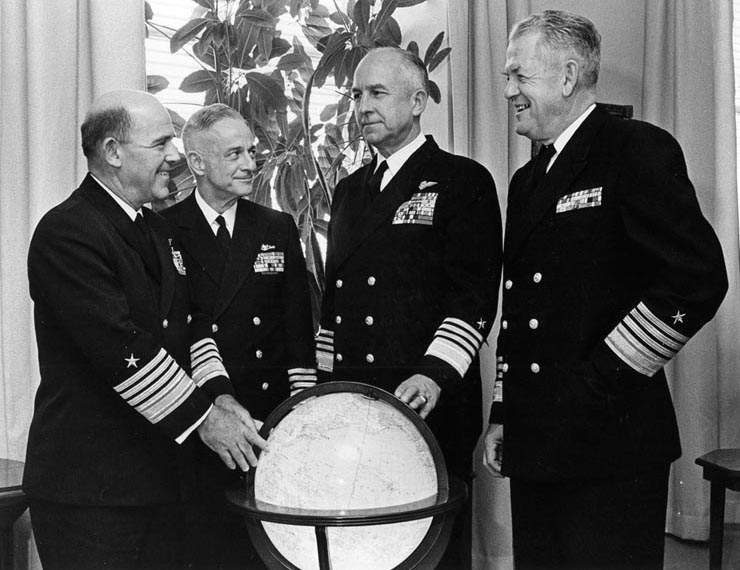 Admirals Duped
Military leaders saw drug dealing and human trafficking as something that was going to happen either way, so they were persuaded to capture those criminal industries and use them to fund their Black Ops.
Secret Partnership, Catastrophic Results
Under the sneaky guise of a "counterintelligence partnership," the British Empire directly captures the US government, and uses it to further it's imperial ambitions across the globe.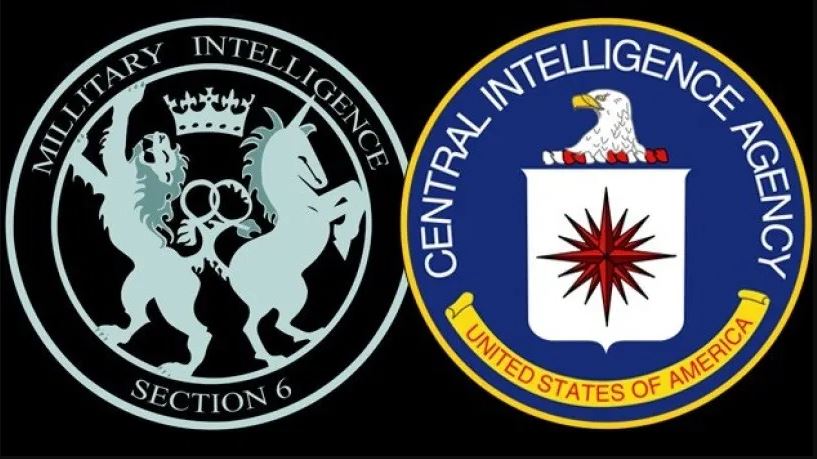 Unholy Alliance
Since the intelligence agencies had legal immunity abroad, but not at home, MI6 and the CIA made a deal to "scratch each others backs". CIA would secretly run criminal enterprises in the UK/Anglosphere, and MI6 would secretly run criminal enterprises in the United States. Including drug dealing, human trafficking, assassinations, election rigging, and media manipulation. This unholy alliance is called D6 - the off-book, covert paramilitary mafia of the CIA & MI6. And it is supported by the "counterintelligence" apparatus of both countries.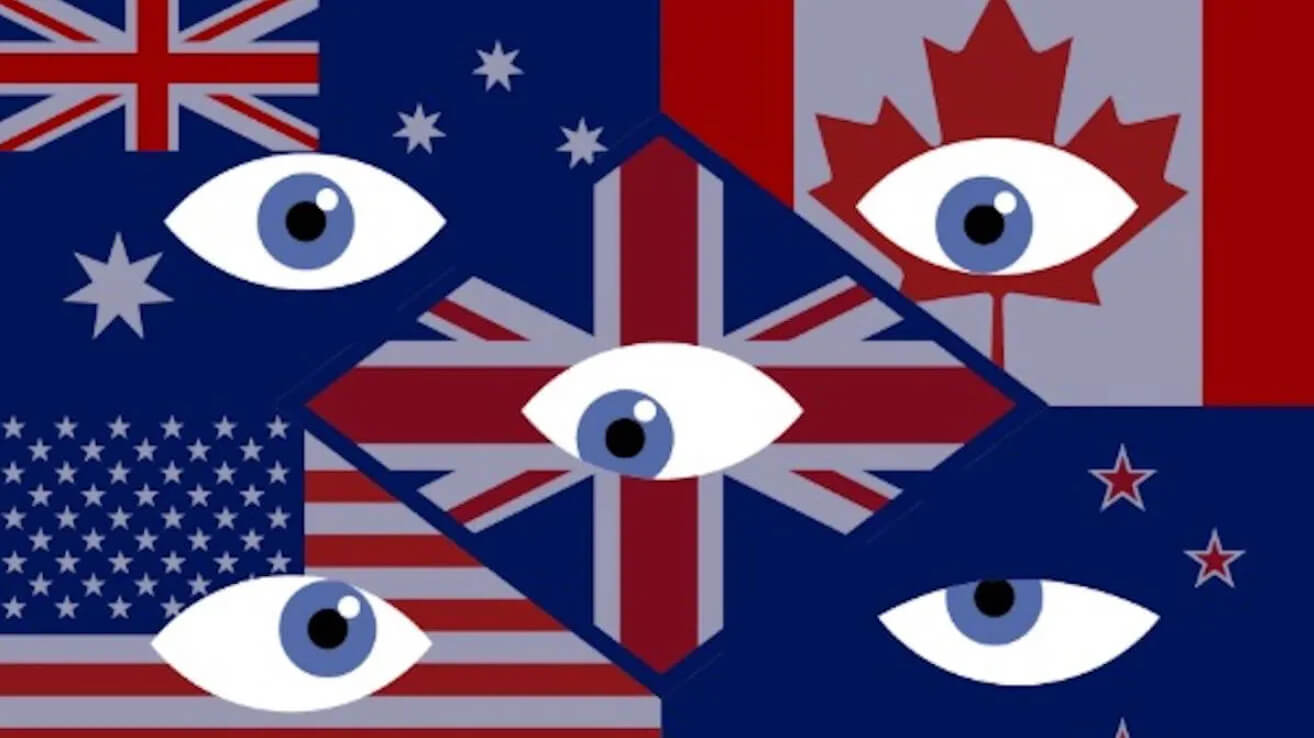 Unlimited Spying
After World War 2, the US made a deal with the British Crown and the countries it controls (i.e. Australia, Canada, UK and New Zealand), where the intel agencies can all monitor each others electronic communications (phone calls, texts, emails, GPS tracking data, etc). This allows all of the governments to spy on each others citizens 24/7/365. Making it very easy for the CIA and MI6 to get away with their criminal rackets. Because if any local law enforcement is about to catch them, or if any news media is about to expose them - they can easily see it, and always stay one step ahead.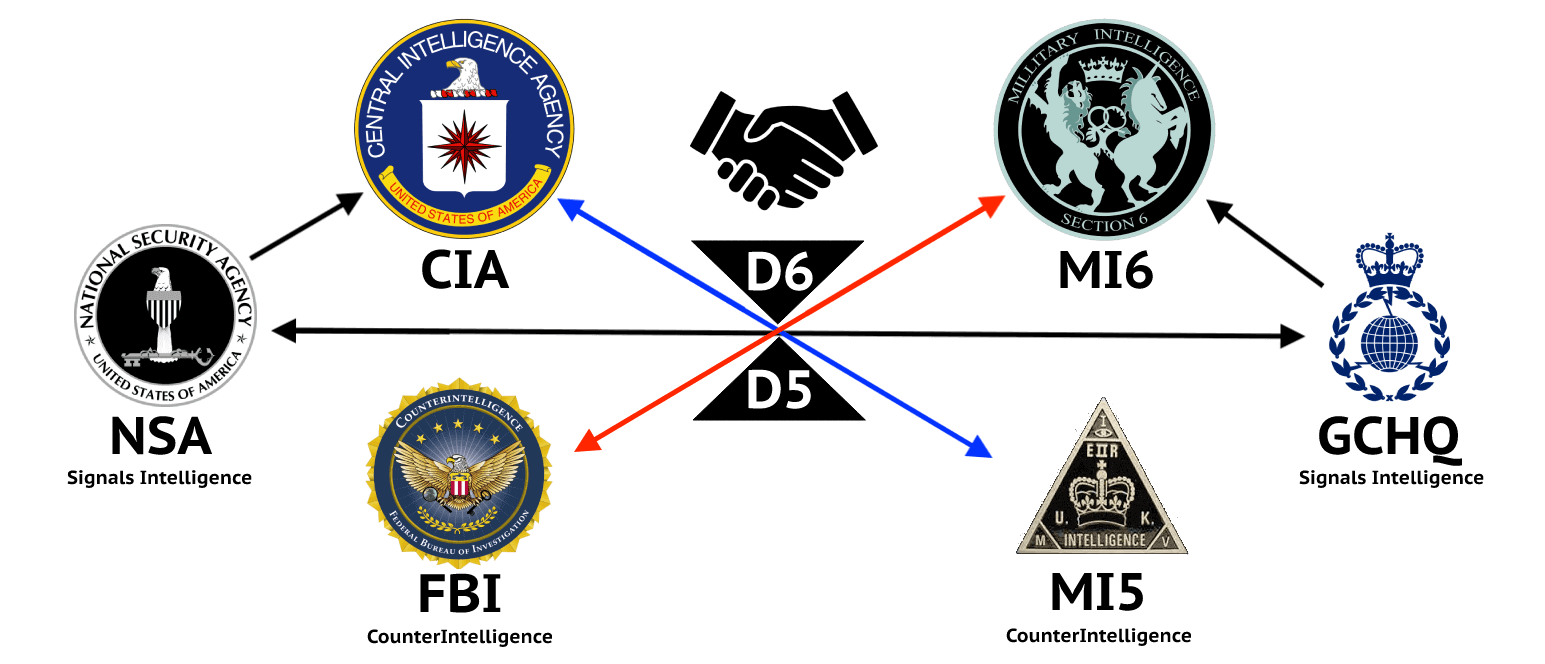 Preposterous Legal Loopholes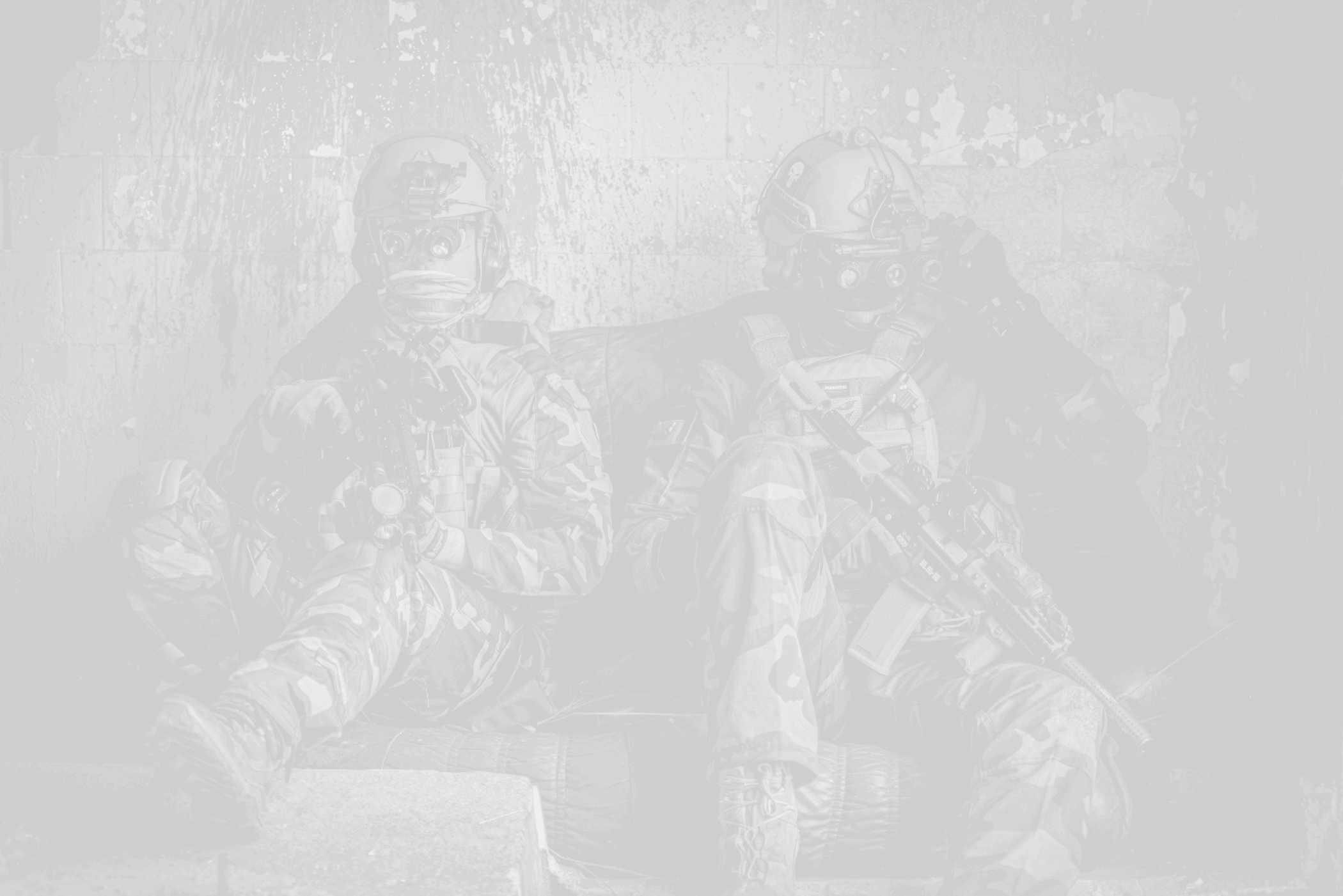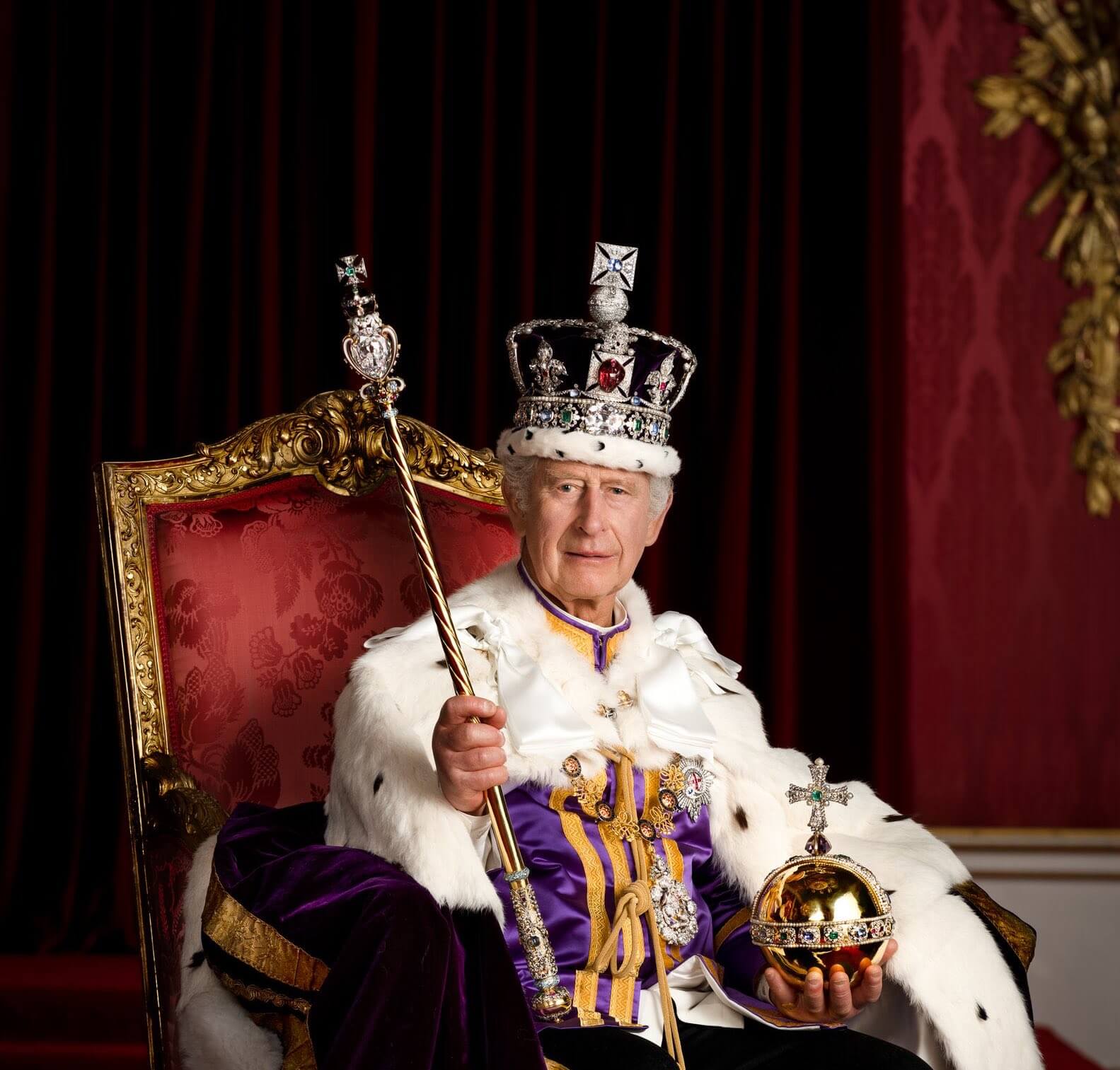 British Monarchy
Shortly after WW2, CIA and FBI counterintelligence made a deal with SIS to use the monarchy as a blanket rubber stamp for nefarious domestic activities. Without the legal foundation the monarchy provides (secrecy, immunity, command structure, etc), our rogue intelligence agencies like would not be able to manipulate media, provoke wars, and subvert elections without being prosecuted. King Charles is nowhere near as intelligent as his predecessors, but the institution of the monarchy is the glue that holds the "deep state" together. It's what enables our rogue intelligence apparatus to legally target Americans.
Assassinating Americans
Prominent Americans deemed "counterintelligence threats" and assassinated via MI6 proxies:
"They still won't realease the JFK documents, 60 years later, because the assassination was ordered through the Monarchy loophole. Meaning it can legally be kept secret forever."
False Flags
False Flags are murderous stunts that the CIA and military uses to trick the public into being ok with their racket wars: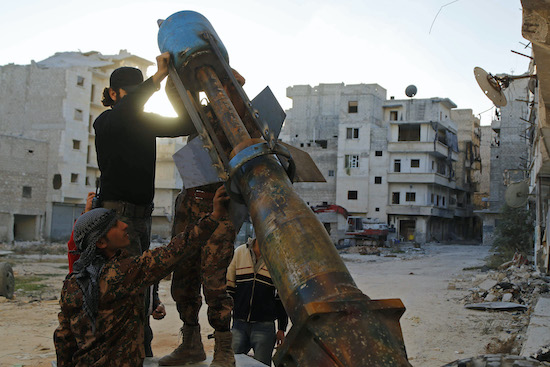 Syria Gas Attacks
The CIA got their Saudi partners to set-up and stage chemical weapons attacks in Syria, in an attempt to start another disastrous War in Syria.
Operation Northwoods
In the early 1960s, America's top military leaders reportedly drafted plans to kill innocent people and commit acts of terrorism in U.S. cities to create public support for a war against Cuba. Code named Operation Northwoods, the plans reportedly included the possible assassination of Cuban émigrés, sinking boats of Cuban refugees on the high seas, hijacking planes, blowing up a U.S. ship, and even orchestrating violent terrorism in U.S. cities. The plans were developed as ways to trick the American public and the international community into supporting a war to oust Cuba's then new leader, communist Fidel Castro.
Arming Militants
Most of the terrorist organizations on earth are funded and armed by the covert paramilitary wing of the CIA & MI6: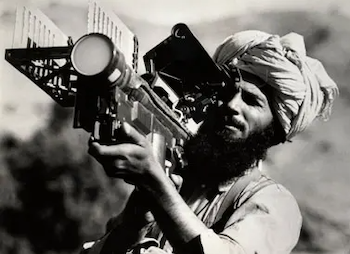 Mujahadeen in Afghanistan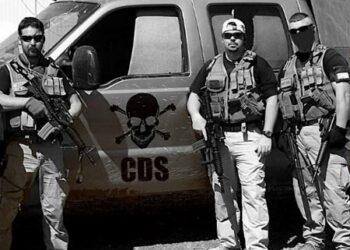 Drug Cartels in Central America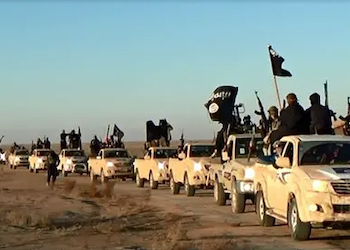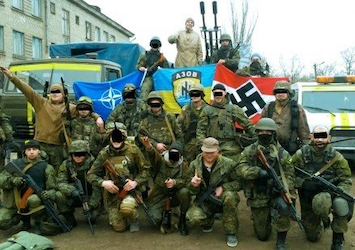 Black Ops Funding Sources
Criminal Enterprises
Funding for the CIA's illegal rackets can't come from Congress (because if it did, there would be a paper trail). So the CIA makes deals with criminal organizations and uses that money to arm terrorists, kill people, rig elections, and manipulate the media:
World's Biggest Drug Dealers
Opium (aka Heroin)
Places the United States goes to war (i.e Afghanistan & Vietnam) end up becoming the world's biggest heroin producers: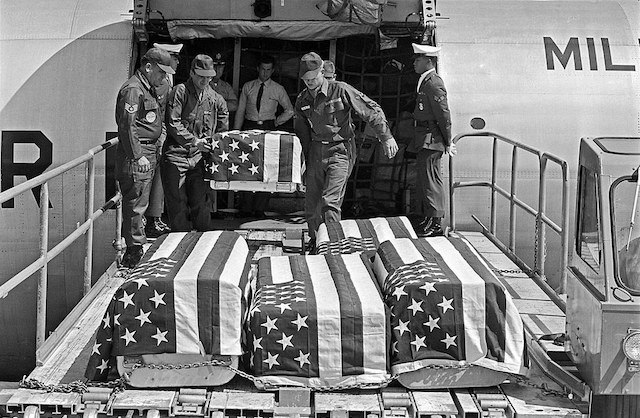 Vietnam & Laos
During the Vietnam War, Vietnam and Laos became the world's leading producer of heroin. It retained the top spot until Afghanistan.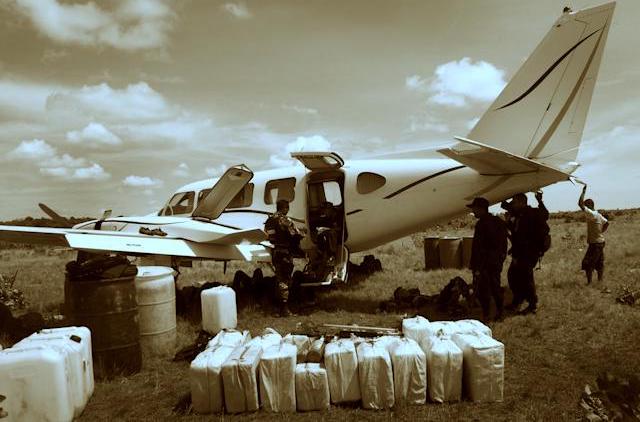 Central America
Virtually all of the cartel bosses and drug-dealing strongmen in Latin America (i.e Noriega, Escobar, Contras, etc) have ties to the CIA & MI6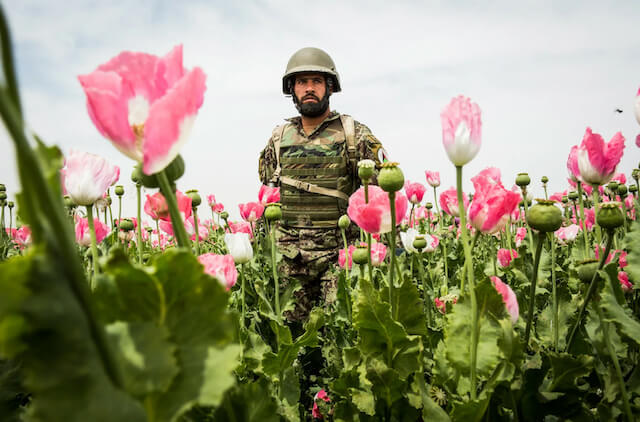 Afghanistan
Afghanistan was producing 4X more heroin when the US military left in 2022, than when they arrived in 2001. Coincidence?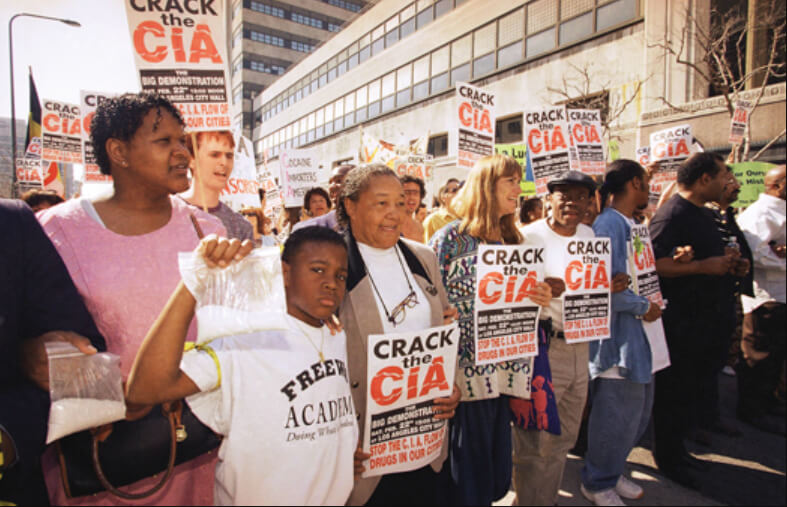 Crack Epidemic
The Black Community has known for decades how the CIA (via their MI6 proxies) intentionally flooded black neighborhoods with highly addictive crack-cocaine. At the time, they were widely dismissed as conspiracy theorists, but over the last decade, many other communities are starting to wake up to this grim reality as well.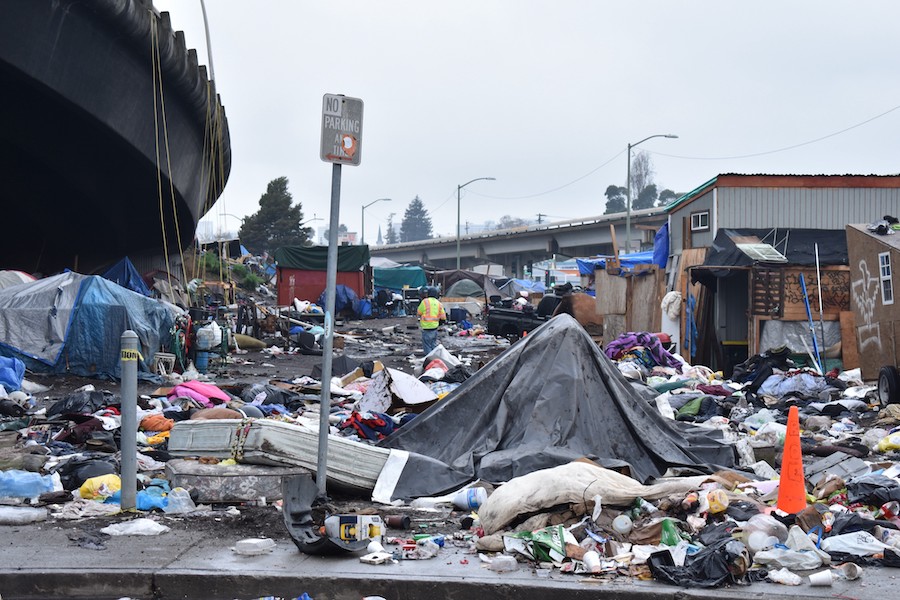 Opiod Epidemic
As Bush's (2) wars ballooned into Obamas (7) wars, the opioid epidemic exploded in the US. That's because the CIA needed more and more money to fund black ops in counties across the globe. More recently, China has begun to pile on to this effort with the introduction of Fentanyl. China sees this as payback for when the British Empire (with the help of American Oligarchs such as Warren Delano) flooded them in Opium, crippling their country for over 100 years.